Timber Frame Beauty Built to Last for Generations
Large Eurotimber Cabana 12'x16' $10,200
Do not miss out on the outdoor lifestyle! Our largest cabana kit provides an elegant shelter for your outdoor dining or seating areas. Enjoy the beauty of this timber frame structure for years to come. Your kit comes with everything you need to build it yourself or we can install for you. Get ready for summer now!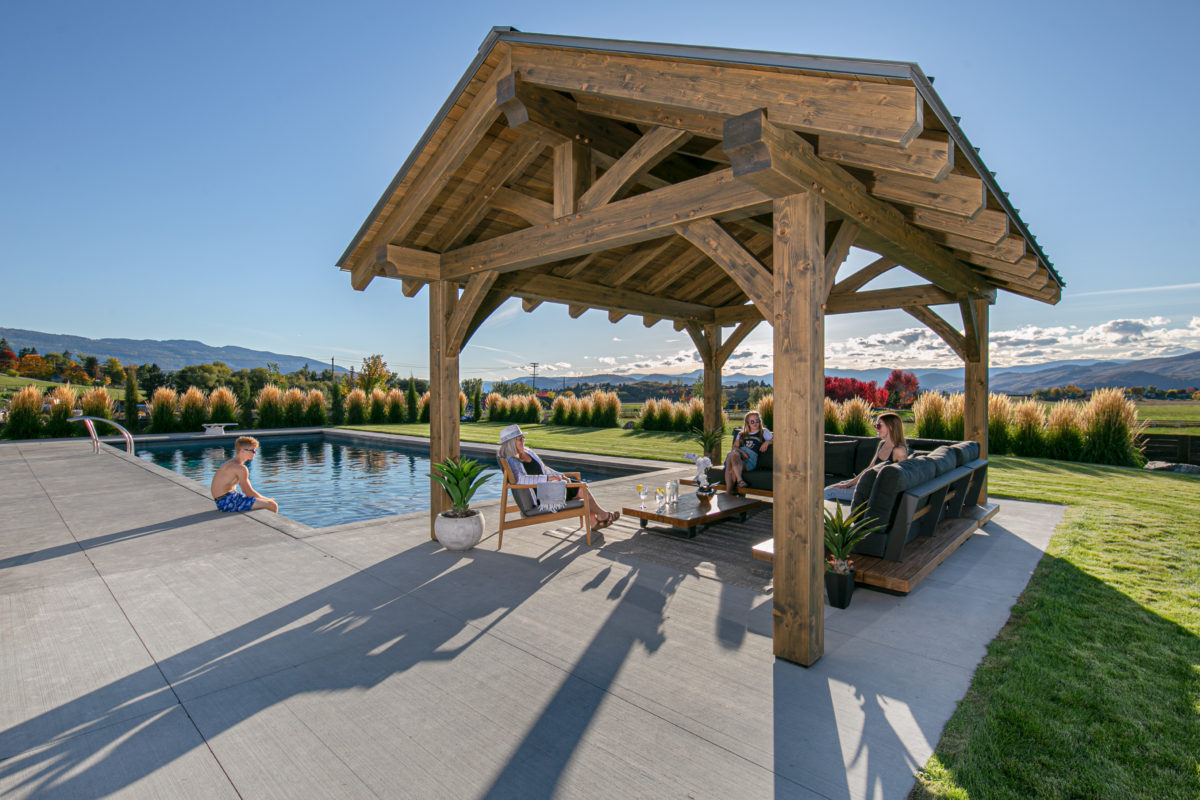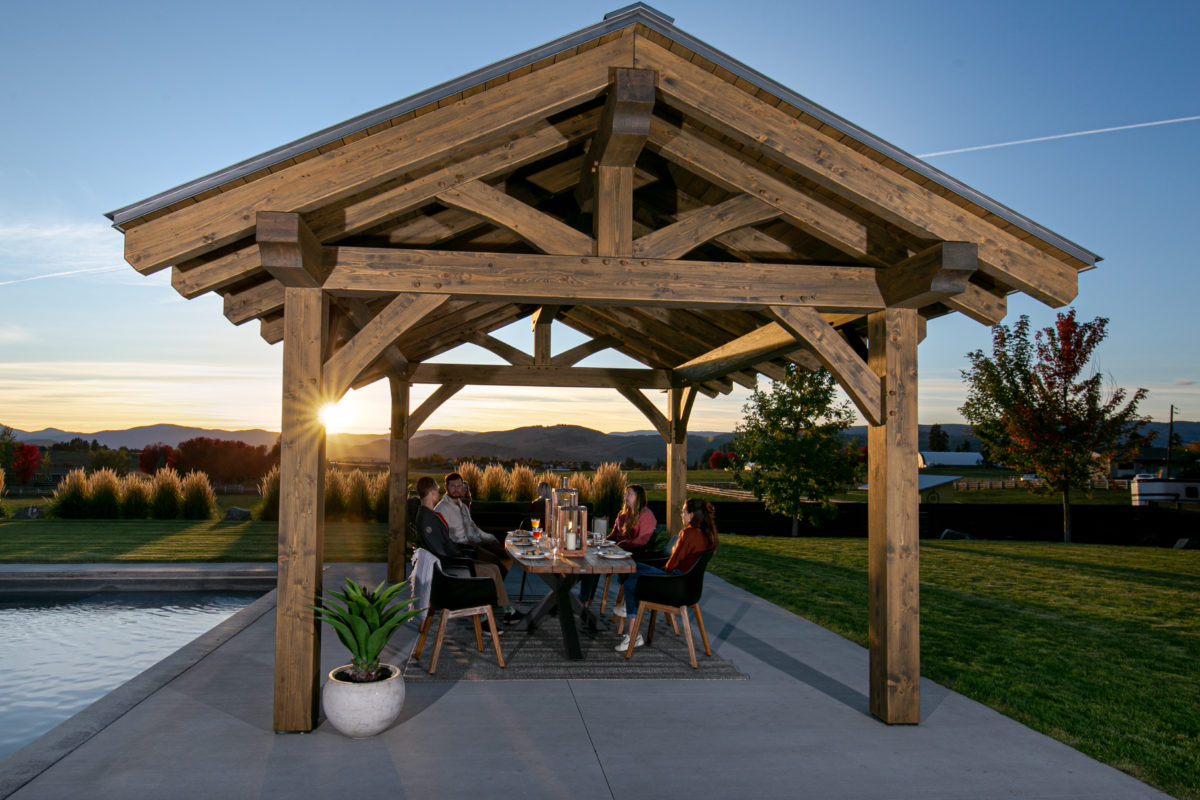 Medium Eurotimber Cabana 12'x12' $9,400.
Enduring beauty, quality and style are trademarks of all of our Cabana's. Our medium kit is the perfect solution for all of your outdoor entertaining.

Small Eurotimber Cabana 10'x10' $8,700.00
Need a shelter for your BBQ, a place for your hot tub or a dry spot to chill and sip on glass of wine?
Our 10 x 10 kit is ideal for smaller spaces but still boasts the same quality of our larger kits.
The pre-cut, pre-drilled assembly makes this a great do-it-yourself project. Get together with a few friends and start building your EuroTimber Cabana. Enjoy some cool drinks or a BBQ under your new timber frame cabana and can be proud to say you built it yourself!
To make it even easier, most municipalities do not require building permits for structures smaller than 10 square meters.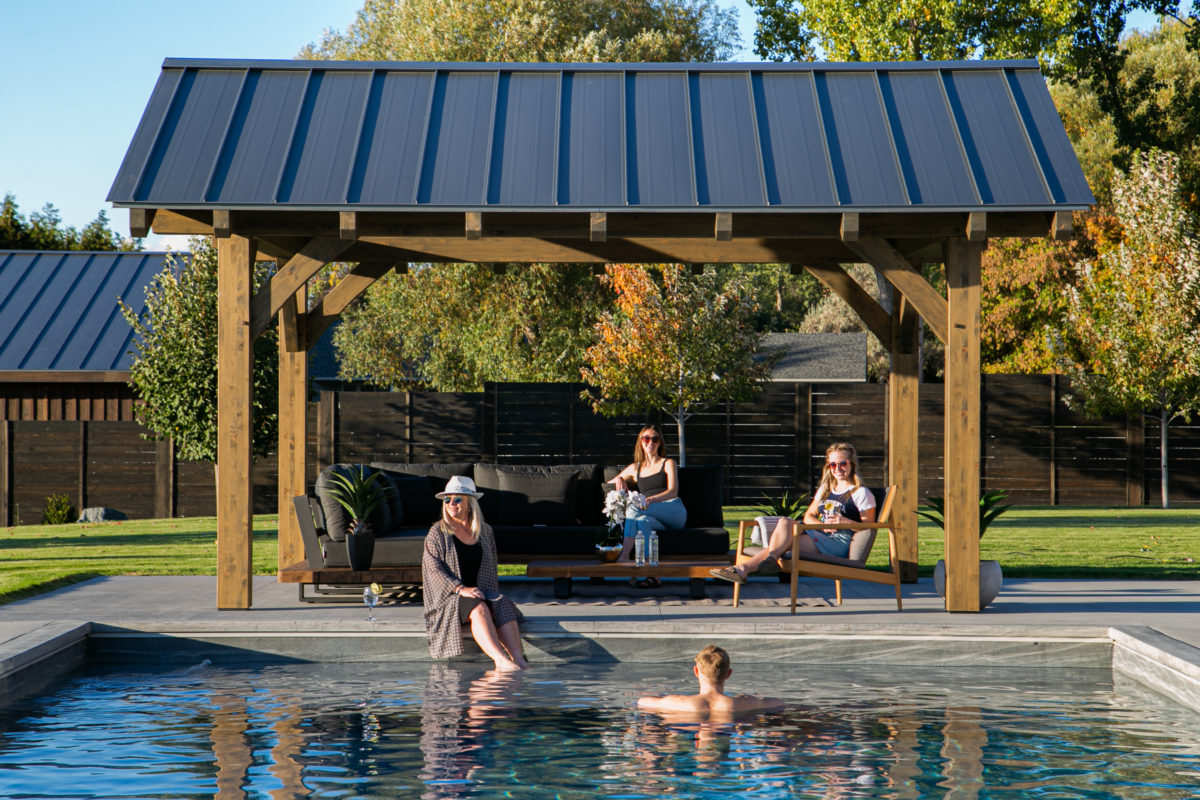 INCLUDED WITH ALL EUROTIMBER CABANA KITS:
All kits are built using the traditional mortise and tenon connections, held together with 1" oak dowels. EuroTimber Cabanas are engineered and designed to European Standards of quality that will last for centuries.
Each kit includes
precut European Spruce glulam; kiln dried to 12% to minimize shrinkage.
Full 8" x 8" posts, 8" x 9.5" or 8" x 11" beams and 4" x 8" rafters & braces
Timbers are all vinyl brush finished for maximum absorption of the stain creating a lustrous, and rich look
easy to read installation guide with all the required post bases, fasteners and oak dowels.
stamped engineering drawings for permitting and assurance of the quality.
OTHER OPTIONS:

Your EuroTimber Cabana can be individualized with your choice of stain color.
Roofing options for your kit will vary depending on your location and supplier. Your choices included 2" x 6" tongue & groove on top of the roof timbers, asphalt shingles or metal sheeting. You can also add 2" x 4" strapping across the roof timbers and then add clear poly carbonate panels or corrugated metal roofing.
Please note that pricing is subject to change. Pricing does not include taxes and shipping.
2021 Eurotimber Cabana Kits Pricing and Roofing Options