Stairs, Handrails, Mantels, Fireplaces and More!
You don't have to own a timber frame home to enjoy the unsurpassed beauty of timber
Every time you look up to the sturdy wood mantle above the fireplace, or the thick, reassuring Douglas fir treads of your bedroom staircase, you'll be reminded of the craftsmanship that went into those timber frame details.
Elaborate woodwork such as this is an art form mastered by few, and homeowners with an eye for quality appreciate the effort that goes into it. It's amazing how a few simple, clean timber frame details—such as stairways, handrails and other accents—can enhance the charm of any room.
At European Timberframe Corporation, we relish the challenges and intricacies of everything we do—from the timber frame buildings we design and raise, right down to the custom accents we add to existing homes—and we derive pride and pleasure from carrying out projects right down to the finest detail.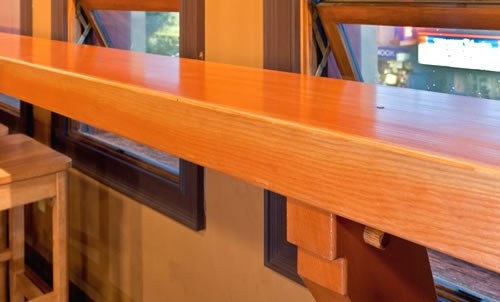 Incorporate a timber frame accent into just about any building feature:
Fireplace Mantels
Bar tops
Farm and driveway gates
Entranceways
Rafter ends
Gable Trusses
Knee Braces
False beam ends
Open raiser stairs
Perhaps the best part of timber frame accents is you don't have to own a timber frame home to enjoy them. Even if you live in a traditional stick-frame home, our skilled craftsman can cleverly integrate many of the above-mentioned features to enliven it with a timber frame appearance.
Why you'll love custom timber accents around your home:
Quality workmanship means the finished product will perform as well as it looks. From the secure railing that surrounds your post-and-beam deck to the smooth, supportive handrail that guides you towards a peaceful night's sleep, there's a comforting appeal in knowing the work was completed with the utmost care.
Add personalized style to your timber frame accents by choosing from a variety of long-lasting stains to compliment your home's existing aesthetic.
Love the idea of exposed timber in your outdoor living room?
---
Add an element of distinguished style to your home with timber frame details such as stairways, handrails and other accents. Call us to discuss your project. Serving Vernon, Kelowna and other communities in the Okanagan and across BC. We also ship across Canada and to the United States.