That means people everywhere are shedding the extra layers, unpacking camping gear, cleaning off their decks and patios, and getting ready to enjoy the beautiful sunny weather that is just around the corner. Okanagan summers are made for getting out of the house, for enjoying the sunlight, for feeling the lake breeze cooling your skin, for BBQ parties and family reunions, for stretching out and relaxing with a good book while working on your tan. Okanagan summers are made for enjoying life outdoors.
It's a typical scene, after a day on the lake everyone comes back to your house for some food and drinks, a few people go hang out by the BBQ in the beating sun, while everyone else crams into a hot kitchen with air conditioning that is wholly inadequate. After dinner people are hot and uncomfortable and the party ends too soon; the dinner, which could have been the highlight of the day, feels more anti-climactic and you vow to do it better next time.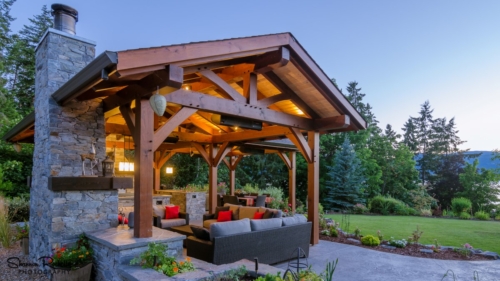 Now, imagine the same scene, but with a different setting. Everyone finishes the day by the lake, and comes over to your house. Instead of everyone taking up residence in the kitchen you guide them around to the back of the house where you have a beautiful custom built outdoor kitchen.
Everyone "oohs" and "aahs" over the elegant design, and makes themselves comfortable in your plush outdoor furniture. They stretch out and admire your beautiful landscaped garden while enjoying the stunning construction and ambiance created by your unique and customized outdoor kitchen, built from BC grown Douglas Fir. The sound of your favorite album seems to emphasize the sizzling of the steaks on the BBQ and the conversation and laughter ebbs and wanes with the sound of your blender making a fresh batch of margaritas. The cooling breeze wafts through the open air design bringing with it scents of flowers and fresh orchards as your guests bask in the setting sun.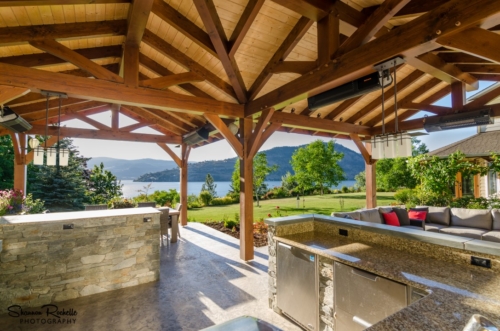 Living an Okanagan summer means bright sunlight, hot summer days, being surrounded by beautiful lake views, mountain vistas and verdant aromatic orchards. All just waiting to be experienced. Imagine relaxing in the shade under a timber frame pergola watching your children play in the sprinklers; imagine a relaxing Sunday morning, sipping coffee and watching the sunrise from your outdoor living room.
At European Timberframe Corp, all of our outdoor living spaces start with hand selected Douglas Fir, milled right here in the Okanagan. We then work with you to custom design and build a structure that fulfills your dreams and lasts a lifetime. Our custom built outdoor kitchens, living rooms and pergolas are made for Okanagan summers.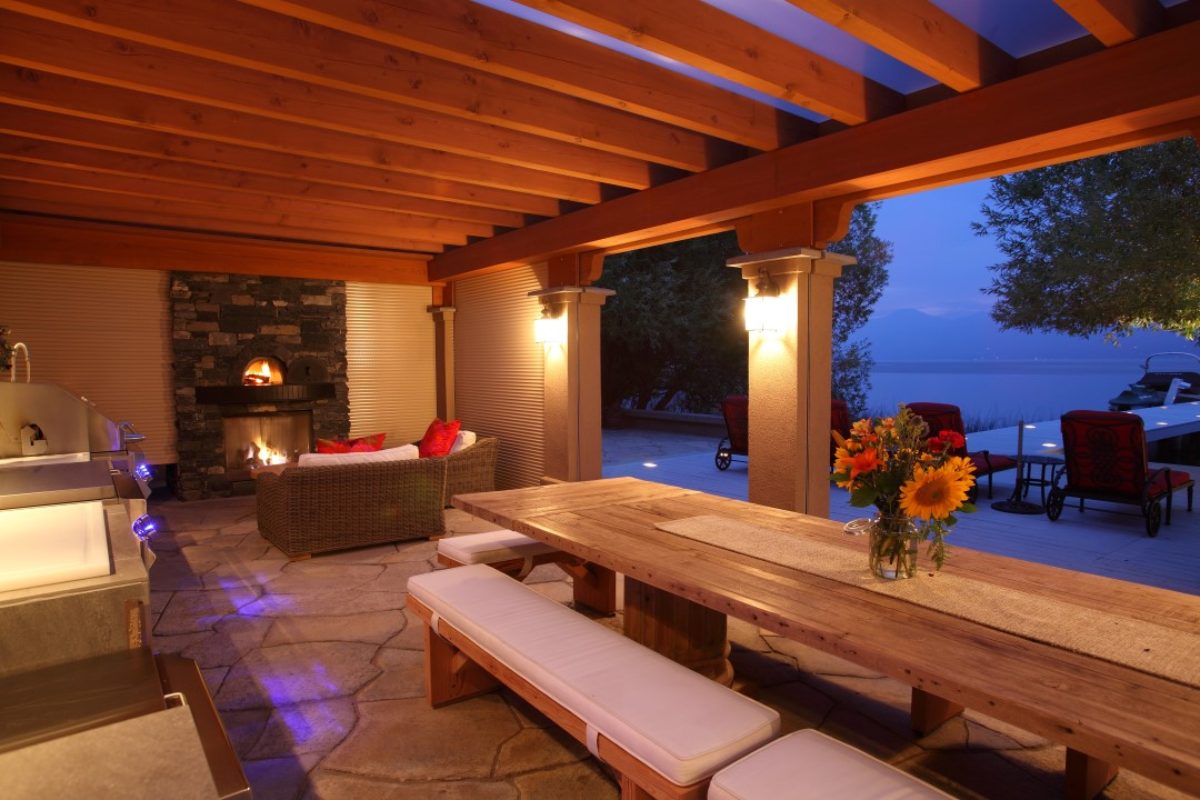 ---