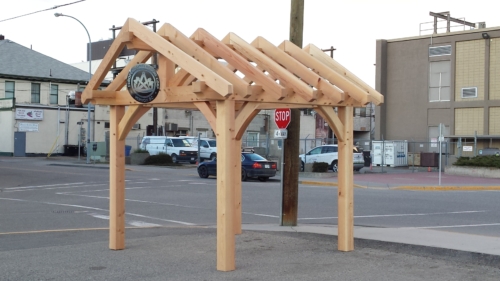 Ever wanted a unique timber frame gazebo for your yard? Now is your chance! This one is up for sale by silent auction... Here's what's happening:
The gazebo pictured here is the gazebo that is up for grabs. You can see it in person, currently assembled in the parking lot at Fishers Hardware, Vernon, BC.
Included is the gazebo, exactly as seen (Approximate value $8000):

Kiln Dried, Douglas Fir Timbers
Hand cut structure
Traditional mortise and tenon joinery with oak pegs
Assembly anywhere in the Okanagan Valley
10'x10' (outside dimensions of post bases)
8' high to bottom of the main roof beams
1.5' overhang on all four sides
To bid in this silent auction, send an e-mail to [email protected] with your contact information, and your bid amount.
Minimum bid increments of $50.00 please
CONGRATULATIONS TO DALE AND CINDY SNITYNSKY ON THEIR WINNING BID OF $5250. STAY TUNED IN THE COMING DAYS FOR INFO ABOUT THE CHARITIES THEY CHOOSE AND MAYBE EVEN SOME PHOTOS OF THE GAZEBO ASSEMBLED IN IT'S NEW HOME. THANK YOU TO EVERYONE WHO BID AND TOOK INTEREST IN THIS AUCTION!
The full amount of the winning bid will be donated to local charities. 50% will go to the charity of choice of the winner of the silent auction, and the other 50% will go to a charity chosen by European Timber Frame.
SILENT AUCTION CLOSES APRIL 30TH, 2014 AT 10:00PM.
---